---
"Free To Play" – A 2-Day Workshop For Musicians and Performers
Tübingen, 29th/30th April
With Alexander Technique and LearningMethods teacher, Andrew Monaghan
Location Werkstadhaus, Aixer Str. 72, 72072 Tübingen
Location Website: http://www.werkstadthaus.de/startseite.html
Date 29th/30th April
Time 10:00 – 16:00 Daily
---
A workshop for musicians, performers, and anyone who would like to feel more ease and freedom in their playing and in their lives.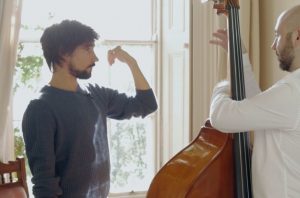 This 2-Day Workshop Is For You If…
You ever feel tense or sore while singing, playing, performing, sitting or standing
You ever worry that injury, pain or stiffness threatens your ability to play
You would like to learn a simple method to prevent, reduce and eliminate pain and strain
The workshop content will be focused towards the issues that you wish to explore.
Some of the Things You Will Learn
How to prevent, reduce and eliminate strain or injury by improving how you sit, stand, bend, or hold an instrument
A simple technique you can use to reduce tension and strain and increase your freedom of movement
How to uncover and change the underlying causes of strain, pain or injury
Who is the Teacher?
Andrew Monaghan has been teaching Alexander Technique & LearningMethods since 2009. As a former chronic pain sufferer, his passion is helping people become free from pain, strain, and anything that holds them back.
---
Schedule
Day 1, Saturday 29th April
10:00 – 12:00
Introduction
Discussion
How We Normally Try To Solve Problems
Why Pain, Strain and Injuries Are So Common – and what to do about it
Bringing Ease into Everyday Movements Part 1
Break
Bringing Ease into Everyday Movements Part 2
Lunch – 1 Hour
13:00 – 16:00
Check in – thoughts, feedback
Bringing Ease into Everyday Movements Part 3
Principles of Ease
"Constructive Rest"
Break
Applying Principles to Holding Instruments or singing while Sitting, Standing
Check-in Thoughts, Feedback
Wrap up
Day 2, Sunday 30th April
10:00 – 12:00
Check-in & feedback
Tuning in to support
Exploring your problems
Constructive Rest
Break 12:00 – 13:00
13:00 – 16:00
Further explorations – applying what you learned to the issues you would like help with.
---
Book your place
Step 1
Please fill out this form

Step 2
Reserve Your Place by Paying
Full price — €80
Deposit — €40 (full amount payable on day)
If for any reason the workshop is cancelled, all payments are fully refunded.
Can't afford the full price? Send us a message using the contact details below!
If you need to cancel, please give advance notice — refunds are unavailable 48 hours before the workshop.

Location Werkstadhaus, Aixer Str. 72, 72072 Tübingen
Location Website: http://www.werkstadthaus.de/startseite.html
Date 29th/30th April
Time 10:00 – 16:00 Daily
Have any thoughts, questions?
You can reach Andrew at andrew@amonaghan.net or by phone +353 879 387 302.
---